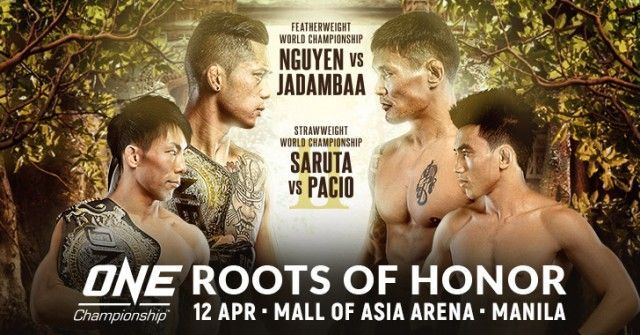 Watch ONE Championship: Roots of Honor – Martin Nguyen vs. Narantungalag Jadambaa – 4/12/19 Live stream Full Fight 12 March 2019 at Manila, Philippines.
Dailymotion 720p HD
Part 1Part 2Part 3Part 4Part 5Part 6Last
Download One Championship Roots Of Honor FHD 12 April 2019
Preview: The main event of the evening is a ONE Featherweight Championship bout that will see Martin Nguyen attempt to defend his title from Narantungalag Jadambaa.
In the co-main event, Joshua Pacio will challenge Yosuke Saruta for the ONE Strawweight Championship.
Main Card
Martin Nguyen vs. Narantungalag Jadambaa
Yosuke Saruta vs. Joshua Pacio
Tatsumitsu Wada vs. Gustavo Balart
Leandro Issa vs. Fu Chang Xin
Ibrahim El Bouni vs. Andrei Stoica
Luis Santos vs. James Nakashima
Edward Kelly vs. Sung Jong Lee
Prelims
Eric Kelly vs. Kwon Won Il
Saemapetch Fairtex vs. Ognjen Topic
Ahmad Qais Jasoor vs. Xie Bin
Niko Soe vs. Eko Roni Saputra
Lerdsila Phuket Top Team vs. Momotaro
Bi Nguyen vs. Dwi Ani Retno Wulan
Ramon Gonzales vs. Akihiro Fujisawa