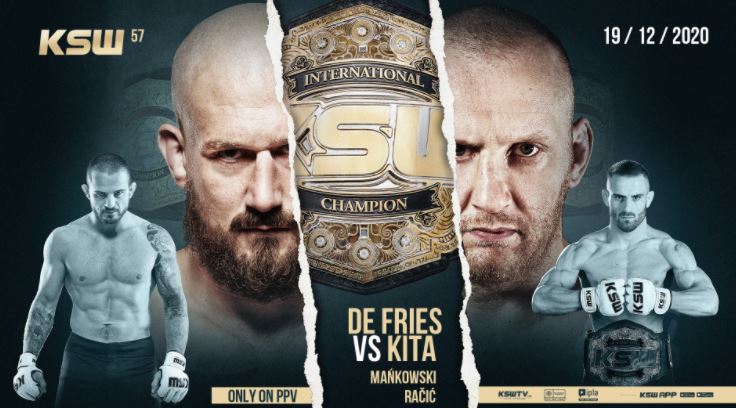 Watch KSW 57: Phil De Fries vs Michal Kita 2020 12/19/20 – Live stream Full Fight 19 December 2020 at Voivodeship, Poland.
Replay Will Soon Here…
Watch KSW 57 Fight Card Preview
KSW will end 2020 with a bang after announcing the full line for KSW 57. The eight-bout card, which takes place on Saturday, December 19, will contain three title fights and is to be held in Lodz, Poland.
Heavyweight Title: Champion Phil De Fries vs. Michal Kita
Vacant Lightweight Title: Marian Ziolkowski vs. Roman Szymanski
Lightweight: Artur Sowinski vs. Borys Mankowski
Bantamweight Title: Champion Antun Racic vs. Bruno 'Gafanhoto' Santos
Middleweight: Cezary Kesik vs. Abus Magomedov
Middleweight: Tomasz Drwal vs. Patrik Kincl
Welterweight: Kacper Koziorzębski vs. Marcin Krakowiak
Welterweight: Albert Odzimkowski vs. Christian Eckerlin